Portuguese Pickled Onions (Cebola em Conserva)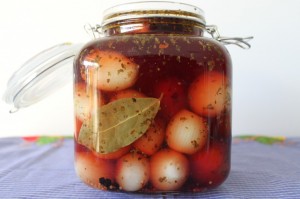 Portuguese pickled onions are probably one of the most unique and traditional dishes that Portuguese food has to offer. Considering the Portuguese are a culture which uses all the ingredients possible and wastes nothing when making food, we were always going to have a way to preserve our vegetables. I have enjoyed these delicious pickled treats many times and I can remember whenever my grandparents would have them already made ready to enjoy. They have a very unique and juicy flavor which can only be understood by trying it yourself.

Ingredients:
20 onions for canning
2 cups wine vinegar
2 cups water
2 tablespoons of salt
1/5 cup of oil
2 cloves of garlic
3 bay leaves
1 tablespoon of mustard seeds
1 tablespoon of oregano
1/2 teaspoon of clove
1 tablespoon of oregano
1 tablespoon black pepper (whole, without grinding)
1 tablespoon of red pepper flakes
1 big jar with a lid
Directions:
1) Peel all the onions and rinse them well.
2) Boil a pot of water and add the onions for 5 minutes (helps to let the flavor of the onion be less pronounced, without losing crispness)
3) In a saucepan, prepare the seasoning. Boil all ingredients (vinegar, water, olive oil, salt, garlic, bay leaves and spices chosen) together.
4) Place onions in a big jar and add the boiling seasoning over the onions.
5) Let cool slightly and close the lid.
6) Store in the refrigerator for at least 3 weeks.
7) The longer you let them keep preserving, the better the onions will taste.
Enjoy!