Portuguese style Mussels, known as Mexilhões. This is a simple dish with not too many complicated ingredients. This way you can truly enjoy the flavors of the Mussels with just a few herbs and spices to complement it. Try it out and tell us what you think.

.
.
Ingredients:
4 garlic cloves chopped
2 tablespoons butter
1/4 cup olive oil
1/2 lb mussels
1/4 cup Portuguese white wine
1/4 cup chopped cilantro
1/4 chopped parsley
Directions:
1) In a large frying pan, add the garlic and butter to the pan and set it on low heat.
2) Once the garlic has browned a bit, add all of the mussels to the pan.
3) Pour the olive oil and wine into the pan. Stir the contents together in the pan.
4) Set it on medium heat and cover the pan.
5) Cook for 15 minutes, or until the mussels are done and opened.
6) Cover with the chopped parsley and cilantro and mix it well.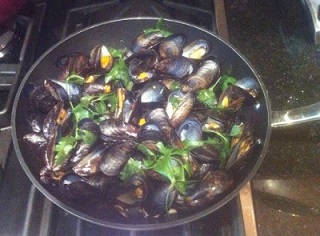 7) Pour the mussels and the rest of the contents into a serving bowl.
8) Serve with some bread for dipping, and enjoy!